Logo Basset Hounds - Puppy Page
Take a look at who's new at Logo Basset Hounds. But first, meet the Sire and Dam.
Meet Dusty.....aka The Dustman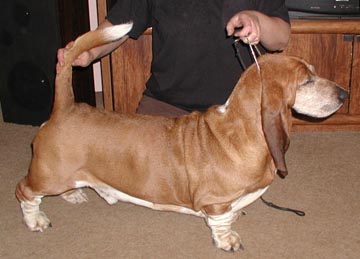 CH Logo's Trials N Tribulations
Sire: CH Sanlyn's T-Bone Walker, ROM
Dam: CH Logo's Eternal Spirit
Breeder: Gretchen Shelby, Logo Bassets
Dusty is a large boned type male, 74 lbs. at show weight. His temperment is outstanding. He is accepting of all dogs coming and going at our home including rescue dogs who are sometimes very needy emotionally. He befriends them right away. Dusty especially loves ear rubs (He will purr for this.) and.....licking your ears. His show career has been limited as he finished his Championship in a minimal number of shows. Wins include: Best Puppy in Sweepstakes, a specialty Reserve Winner Dog over 40 entries, and Winner's Dog/Best of Winner's over 46 dogs at BHCA Western Regional Specialty.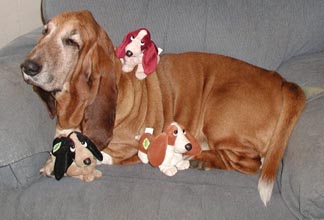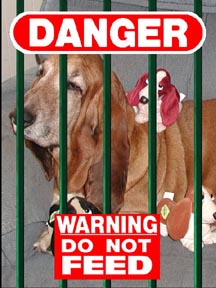 And heeerrreee's Bizzy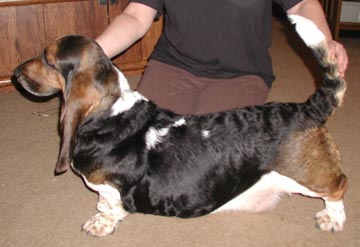 Bar-B Bizzy Body O' Bar-King
Sire: Bar-B Chief Montana
Dam: Bar-B Polly's Free Love
Breeder: Barbara J. Dunning Bar-B Bassets
Bizzy is a heavy boned girl with tons of ear and loose skin. She is line bred on the Bar-B anscestry with Ch Bar-B Honest Abe, ROM as the common factor. Bizzy has had little opportunity to show. Her family moved several times after getting her and before they knew it she was three years old. She is pointed. If her tummy tucks up after this litter, she will return to the show ring.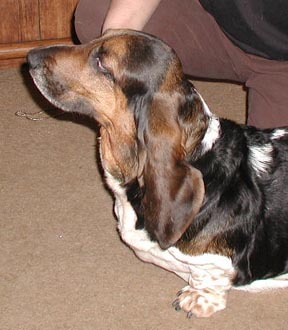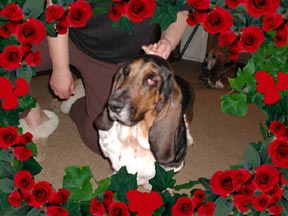 Its all a waiting game. What's a mother to do?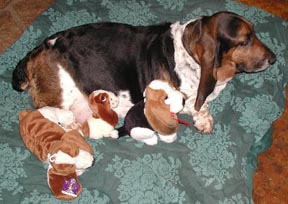 Practice makes perfect??? Bizzy wants to be the best mother ever.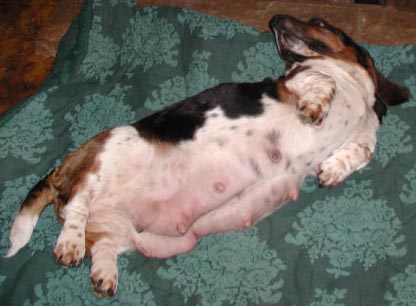 Isn't it time for these kids to make an appearance?

And now what you've been waiting for.........The kids!!!!!
Announcing.......The Logo'N 8...born February 20, 2001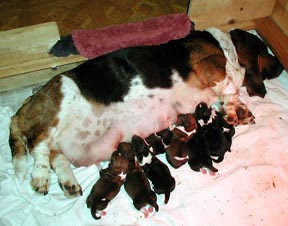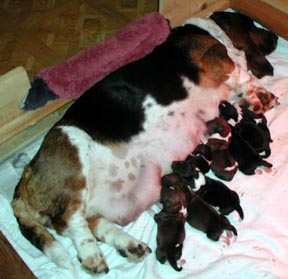 At 5 days old, these two are real beauties!!! Don't you think so??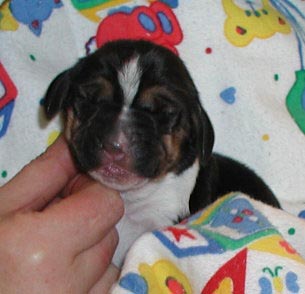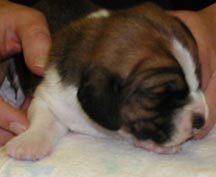 On the left is Bridget and on the right is Blaze.
March 4, 2001: Guess what? At 12 days old, we opened our eyes. What a great big world this is!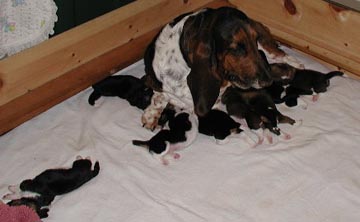 Bizzy is a proud Mama. Just look at what she has to be proud of!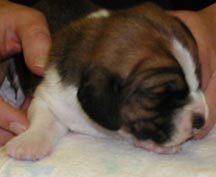 Blaze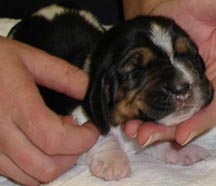 Bridget
Bubba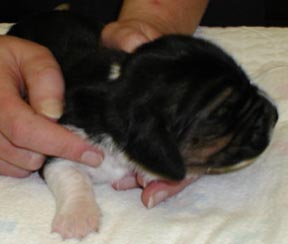 Feather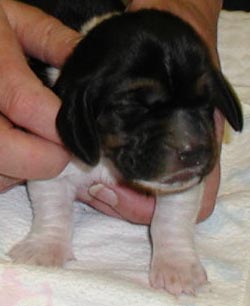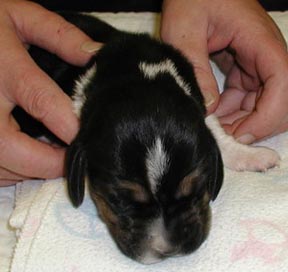 North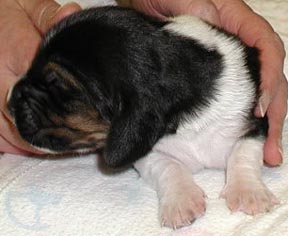 Polly Ann
Rusty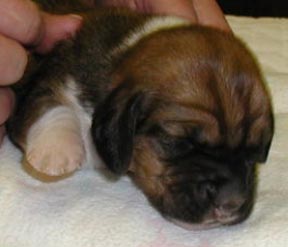 Starbuck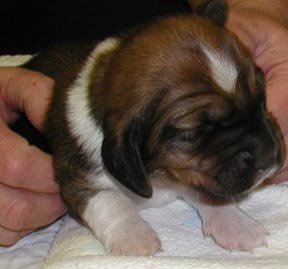 Aren't we cute? Just look at all those wrinkles. Keep watching as our ears grow!!

March 17: Hey!! Look at us! We're 25 days old and growing like crazy. A few days ago we were all weighing in at around 3 pounds. Our two legged moms think that means we are fat and sassy. And guess what......we are eating that all time favorite....puppy gruel. YUMMY! We've all had our first worming and came through with flying colors. As for walking....none of us are ready for the Basset 500 yet, but just wait before you know it. Right now we provide the humans around here with lots of entertainment. Step one, two, three, oops tumble....get up,step one, two, oops...hey, practice makes perfect. Before you know it we'll be racing everywhere.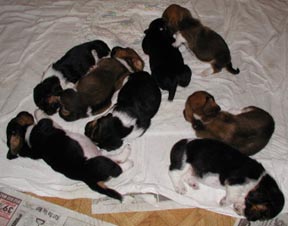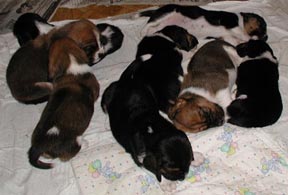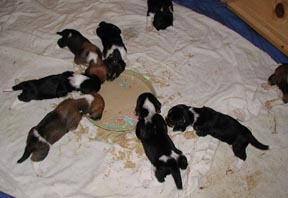 What a grueling experience! Our Bizzy mom likes to clean up our dish when we are done, but as for cleaning us up........she leaves that to Gretchen and Rene.
They took these pictures of us after we had eaten. We were all full and sleepy. No wonder all of our eyes were closed in these pictures.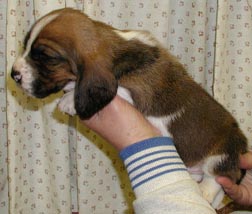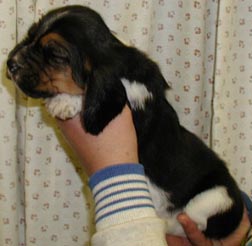 Blaze (left) loves to wade right into the dish seeking out the deepest pools of gruel. Someone should tell him that he's too handsome to wear pancake make up. There is no half-way for Bridget when it comes to food. She walks right through it and flings her whole body into it. Doesn't she know that you only need your mouth to eat?
Now, Bubba likes to take his time when it comes to eating. He starts slowly, but hangs in there until he just can't eat anymore.
See all the variations in color on Feather's face. She's going to be a real beauty as she gets older.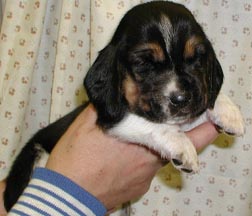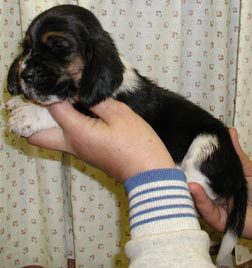 Who can resist North's (left) cute little face? Polly Ann looks like she's going to have quite a few freckles.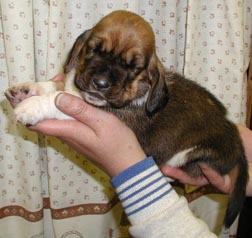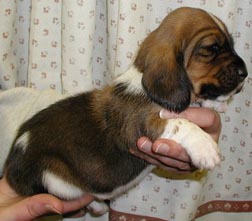 Rusty (left) and Starbuck are rock and roll boys we hear. They like to rock forward, while eating, grab a bite and rock backward. No standing in one place for these guys.


Click on the basset to go to Logo'N Puppy Page 2

Click on the basset to go to Logo'N Puppy Page 3
To Contact one of our two legged Moms you can either phone Gretchen at (541) 830-0713 or email by clicking here Gretchen.