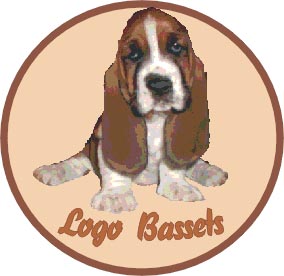 Welcome to the Logo Bassets web site. Here you will find information about the hounds of Logo Bassets . You will also find links to sites providing information on living with basset hounds as well as information about the breed. Enjoy your time in exploring the site.
Logo Bassets is owned by Gretchen Shelby. Contact Gretchen by clicking here: Email Gretchen .
Please note: This site in under construction. Keep checking back for new additions.
Logo Basset Informational Pages:
Living With Bassets ---- This is an article telling about the characteristics and the care necessary to keep a basset hound healthy and happy. Is the basset hound the breed for you and your family?
Whelping and Raising Puppies -- The decision to breed a dog at Logo bassets is made with a great deal of thought and care. Pre-natal care as well as caring for the bitch and puppies after the birth are tasks which should not be taken lightly. Read this article to see how Logo bassets deals with these ussues.
Logo Basset Links:
Dusty and Bizzy Litter birth date February 20, 2001
Dusty and Cookie Litter birth date May 19, 2001
Basset Hound Rescue Sites:
Oregon Basset Hound Rescue --- OBHR is located in southern Oregon.
Cascadia Basset Hound Rescue---Cascadia Basset Hound Rescue is located in southern Washington State.
Nor-Cal Basset Hound Rescue--- Nor-Cal Basset Hound Rescue is located inNorthern California.